Meet the 2021-2022 International Teaching Interns
Dalila Ayala


Home Country: El Salvador
Eden Prairie School: Eagle Heights Spanish Immersion School
Favorite Color: Purple
Hobby: Reading
Hi! I am Dalila Stefany Ayala! I am so excited and happy to start this new adventure. I enjoy working with first and second grade at school. I am having a pretty good time with my host family, they are amazing! Also, I do love this experience because I want to improve my skills in the field of Education. I am so grateful to meet such incredible teachers at school! I do love to be part of this program and get involved in the classes. I want to be a great teacher, and I strongly believe this opportunity will help me to growth personally and professionally.
Juan Pablo Méndez


Home Country: Colombia
Eden Prairie School: Eagle Heights Spanish Immersion School
Favorite Color: Blue
I really like to spend time outside in nature and playing soccer with friends on weekends. Also, I like to play things that make me think trying to find out how to solve them like puzzles. Otherwise, there are other hobbies that I like to do like play other sports, read fiction and detective books. Furthermore, I am here helping with elementary kids that is what I like, because the big impact that a teacher could have in a student's life is during those ages.
Andrés Nectario Morán Rosero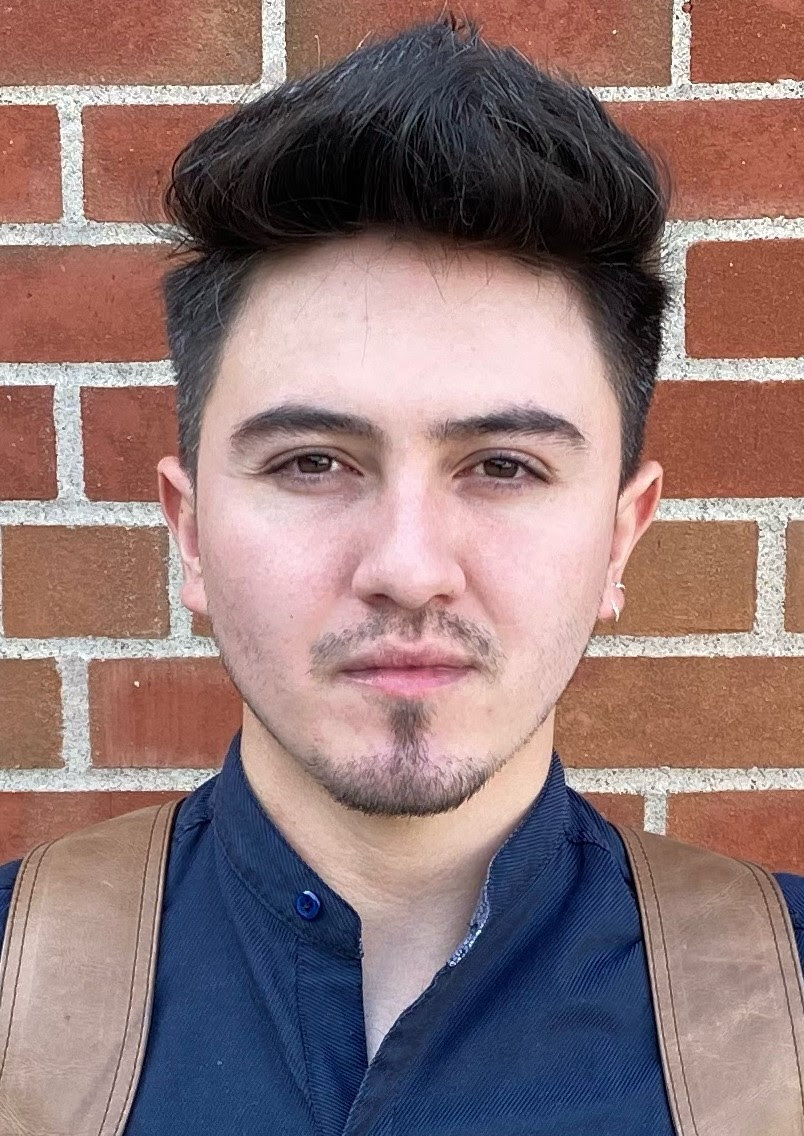 Home country: Colombia
EP School: CMS
Favorite color: Black, White and Blue
Hobby: Sports
I consider myself a pleasant and social person. I like to play sports and work on my mental health. In my free time I like to draw and paint with watercolors
Guillermo Sandoval 


Home Country: Chile
Eden Prairie School: CMS
Favorite Color: Blue
Hobby: Reading
Hey! My name is Guillermo, I'm extremely happy to be here. I am studying to be an English teacher. I really enjoy teaching and working with kids.
Yeferson Rojas 

Hi everyone! My name's Yeferson Rojas from Colombia, I'm an intern at Eden Prairie High School. My favorite color is red and I love to take pictures, travel and try new food. I have a big family, we're 10 siblings. I also speak French. I'm very excited to be here, sharing with you all my culture and my language and also learning from this country, its culture, and its people. Moreover, I believe that this year will be outstanding and full of memories that will remain forever in my heart.
Meet the 2019-2020 International Teaching Interns
Eden Prairie High School International Intern
Sr. Díaz (Jeison)
FULL YEAR EPHS
Colombia
Sr. Díaz is 22 years old and is from a beautiful small town in Colombia called Villarrica. Villarrica is a town surrounded by mountains, rivers and rich fauna and flora. His parents are named Lucia and Fernando. He doesn't have any brothers and sisters, but he grew up with lots of pets and cousins, and will always consider them  his siblings.
Sr. Díaz has a lot of hobbies and interests and was and is involved in a lot of things. He enjoys spending time with his flat mates, hiking, going to the movies, visiting waterfalls and beaches, singing, reading, drawing, playing basketball, cooking, and learning French and Portuguese.
He has graduated from the Universidad Industrial de Santander in English Teaching but he has studied all over Colombia. He has even spent 4 months in a cultural exchange program in New Hampshire.
---
Central Middle School International Interns
Srta. Castillo (Ana)
FULL YEAR CMS
El Salvador
Srta. Castillo is 25 years old and is from San Salvador, El Salvador. She is an only child and lives with her mother and father. She is studying English at the university and loves to learn more about American culture and share her culture. One of her favorite artists is Elvis Presley!
One of Ana's passions is art and she considers herself an artist. She likes to be involved in events, presentations, contests, drawing, giving classes, taking classes, etc. She has taught art workshops at her university and to scouts and other groups and has also combined her passion for art with involvement with the United Nations.
She enjoys talking with people, learning new things and experiencing new cultures.
---
Srta. Herrera (Sara)
FULL YEAR CMS
El Salvador
Srta. Herrera is 22 years old and is from Sonsonate, San Salvador, El Salvador. She has a mom, dad and two sisters, Claudia who is 25, and Gabriela is 16. Her parents live in Sonsonate, but Srta. Herrera moved to San Salvador with her older sister to go to university where she is studying Languages and works at Got English Academy.
In her free time, Srta. Herrera  likes to practice sports and go to the gym, mountain bike, visit new places and meet people from different places. She considers herself friendly, responsible, and is very studious.
---
Eagle Heights Spanish Immersion International Interns
Sr. Pozas (Álvaro)
FULL YEAR
Spain
Sr. Pozas is from Spain and is 21 years old. He is from a small village in Segovia, called San Ildefonso. He currently lives with his parents, his sister, and his grandmother. His sister has just become part of the National Police!
He has just graduated from the University of Valladolid with a degree in Primary Education and Physical Education. He really enjoys sports. While studying at University, he was a children's soccer coach.
His village of San Ildefenso is beautiful. It is totally surrounded by mountains with big trees, many rivers and a great variety of plants and animals. It is a perfect place if you like hiking or mountain sports and disconnect in a quiet place.
He really likes working with children and teaching. He is excited to be here this year!
---
Sr. Gómez (David)
FULL YEAR
Spain
Sr. Gómez is from Spain and is 22 years old. He grew up in Valladolid, but has lived in Alicante, Gigón, Madrid and Barcelona. His parents and older brother live together with a dog, a guinea pig and rabbit. He also has a step sister who is a policewoman.
Valladolid is a very beautiful city with a park in the middle. It is similar to Central Park, but much smaller. The thing he likes most about his city is the beach. It is a fluvial beach.
In University, Sr. Gómez studied Pre K. He just graduated this year. He enjoys teaching and spending time with kids.
His father has a house in a village and there they have lots of animals: two more dogs, ducks, chickens and goats. Sr Gómez visits almost every weekend and he takes care of the animals. He really enjoys animals, taking care of them, and being in contact with nature. He also likes to go to the mountains, go hiking, music, and he plays the accordian too!
---
Sr. Quintero (Edward)
FULL YEAR
Colombia
Sr. Quintero is 23 years old and is from Bucaramanga. It is known as the cute city in Colombia. His parents are named Edward and Luz Marina. He lives with them. He has an older sister that lives in Bogota. They have a very good relationship no matter the distance. His parents and sister are all lawyers; he is the first teacher in the family. He has a puppy named Dante.
Bucaramanga is a great city with great weather. Sr. Quintero likes to go to the pool with his family and friends or go for a walk if it's not too hot.  In Colombia there aren't  any seasons. This is one of the things he is looking forward to in Minnesota.
His parents are very supportive of him learning languages and learning about culture. He studied at a very prestigious university in Colombia and even lived abroad in Oman for 5 months. Sr Quintero loves to practice his English and learn new cultures.
He hopes to go back to Colombia and be a teacher there to show his gratitude, teach the students what his teachers taught him, not only about grammar, syntax, linguistics or pedagogy, but also about what it really means to be a teacher, the ethics and morals that surround our profession.
---
Sr. Urrego (Esteban)
FULL YEAR
Colombia
Sr. Urrego is 25 years old and is from Chía, Cundinamarca, Colombia.Chía is recognized as the city of the Moon.  His parents still live in the same house he grew up in in Cheia. He has two older siblings, Alejandra and Giovanny and they have a good relationship. Sr. Urrego is an uncle and loves playing with his nieces and nephews.
He is  finishing my Bachelors degree in English and Spanish Education  from Única University. He has also worked as a personal tutor for children with special academic needs and  it has  shaped his attitude made him even more eager to learn from his students.
In his free time Sr. Urrego likes to I like to spend time with his family, see movies, play soccer and basketball with friends, help my  father to construct new things for the house and try his mom's lasagna recipes. He also likes to play with his nieces and help them to do their homework. Dancing is one of his FAVORITE things to do in his free time.
---
Srta. Ramirez (Estefany)
FULL YEAR
Colombia
Srta. Ramirez was raised in Medellín, Colombia.  She is an only child, but she is very close to her cousins that she has lived with most of her life and  she considers them sisters. When she was 10 years old, Srta. Ramirez and her mother moved to Panama. She only lived there for two years, but that was when her love of travel and cultures was born.
Srta. Ramirez really enjoys music. Her grandfather is a musician and her love of music comes from him. She started learning music when she was a teenager.  She started learning drums and then when to La Red de Escuelas de Música de Medellín and learned how to play the Violoncello, which is a beautiful instrument. She has played with several orchestras and bands such as La Orquesta Sinfónica de Antioquia and La banda sinfónica juvenil de la Red. Her orchestra has even played with Yo-Yo Ma!
She likes to sing, paint and travel. She also likes to spend time outside. She has also been a volunteer with her church and in the children's program.
---
Srta. Mendez (Gaby)
FULL YEAR
El Salvador
Srta. Mendez is 22 years old and is from San Miguel, El Salvador. She lives with mother, sister and grandmother. They are very important to her.
Her city of San Miguel is full of history. THere are historic places all over. One tourist attraction is Lake Coatepeque which is a crater lake. It even has hot springs near its edge.
In her free time, Srta. Mendez likes to learn new things, cook, watch movies, and be outside and taking selfies. She also has a cat.  She enjoys going out in her town in the evening and eating pupusas. She has been with her boyfriend, Kelvin, for six years. They are both studying English at the university.
---
Srta. Aguirre (Angie)
FULL YEAR
Colombia
Srta. Aguirre is 24 years old and is from Sogamoso, Boyacá Colombia. She grew up with her mom, stepdad, and grandparents. She has 2 brothers. One is a step brother and her and him are almost the same age. It was a blast growing up together.
Sogamoso is known as the "City of Sun and Steel". It is a small, beautiful town. One oF her favorite places is the Parque del Laguito.
She likes reading, writing, even writing in French and English! She also likes drawing and digital painting.
She studied at the Universidad Pedagógica y Tecnológica de Colombia in Tunja. Living in Tunja and attending the university has taught her a lot about not only being a teacher, but being a human.
She is excited to teach and be a part of EHSI!
---
Srta. Latorre (Ivonn)
FULL YEAR
Colombia
Srta. Latorre was raised in Pasto, a city in the province of Nariño, Colombia.  She has an older sister and a younger brother, and her parents are Aida and Arturo. She is close to both of her siblings, but she has a special bond with her brother. He is her best friend. Her sister also has a son named Sebastian; Srta. Latorre loves being his auntie.
Her parents worked very hard to send her and her siblings to the best school possible. She feels very fortunate for the education that her parents provided her.
Srta. Latorre likes to dance traditional dances and to participate in sports. She likes to ride her bike and be in nature. She gives English classes in Nariño and likes to spend time with children. She also enjoys music, instruments and theater. She has also had a lot of jobs and has a lot of experience. She is excited to bring these experiences to the classroom to teach the students about her rich culture.
---
Sr. Moreno (Juan Carlos)
FULL YEAR
Colombia
Sr. Moreno was born and grew up in Buesaco. It is a cozy town that is close to the city of Pasto, providence of Nariño in Colombia. He attends university in Nariño as well. His parents are Liliana and Juan and they are so important to him. He also has two sisters who are younger than him. They are 13 and 19 years old.
Music is a huge part of Sr. Moreno's life. He started in a music school when he was 11 years old and fell in love with the saxophone. He loves to participate in musical groups and events.
Sr. Moreno also likes sports and things that sports are important for development and give you a healthy way of looking at the world. He plays on his towns soccer team and also likes swimming and volleyball.
He is excited for this new experience in Minnesota!
---
Srta. Esteban (Marta)
FULL YEAR
Spain
Srta. Esteban is 22 years old and is from Madrid, Spain. Madrid is a beautiful city. There are many places that can be visited: the museums (the museum of reina Sofía, el museo del Prado, el Thyssen, the museum of Sorolla, etc); also, there are places to be quiet like "el retiro", "el parque del oeste", etc; in addition to restaurants.She lives in El Escorial, where is the Real Monasterio de San Lorenzo, Her  parents are named Jose Luis and Ana Luisa. They have been  separated for several years, but they keep the family together, because she has 6 brothers and sisters. She is the 5th one. She also lives with her grandparents. She likes living with her grandparents because they are the wisdom of the house.
She has graduated with an Elementary Education Degree this past spring. Her boyfriend Pablo, her best friend Vicki,  and group of friends are very important to her. They do lots of fun things together.
---
Sr. Calderón (Nicolás)
FULL YEAR
Colombia
Sr. Caderón is 22 years old and is from Bogotá,  Colombia. He believes there are beautiful places in Colombia like, San Andres Islands, Cali, Medellin, Neiva, Ibagué, and Bogotá.  He has two brothers Santiago and Steven. His parents' names are Dario and Carolina. They are divorced, but the family is still very united.
When Sr. Calderón went to university, he moved to Ibagué and moved in with his grandmother to attend University of Tolima. In addition to teaching, Sr. Calderón has taken theater classes and enjoys all things theater-related. Some things he likes to do are hiking, kayaking, camping, and taking taekwondo.
One day he would like to raise a family in Colombia and create an art school to give local people the chance to express themselves. He is looking forward to being a part of Eagle Heights this school year.
---
Srta. Arenales (Sofia)
FULL YEAR
Spain
Srta. Arenales is 23 years old and is from the city in Spain named Valladolid. She has spent her whole life growing up  there. Valladolid is the capital of the Autonomous Community of Castile and Leon. It is located in the northwest of Spain, in Europe. It is the 13th biggest city in Spain. She likes her city because you can go to the beach easily because it is near to the coast. The weather is cold in winter and very hot in summer.
Her parents are named Nacho and Carmen. Her father works in a bank and her mother is a homemaker. Even though they are divorced, her family is very united. They do holidays and even travel together. THey have visited León, Bilbao and A Coruña, and went to Paris and Portugal too. She has an older sister named Raquel and she works in an English academy. She is also really close with her cousin and they spend  a lot of time together.
Srta. Arenales recently graduated University of Valladolid with an Elementary Education Degree.
---
Srta. Ortíz (Yaquelin)
FULL YEAR
El Salvador
Srta. Ortiz is 23years old and is from Gotera, Morazán, El Salvador. She has a mother, father and 3 siblings.  Her father is a baker, and her mom has a business making food and selling it. She thinks her mother is extra special in her cooking talent. Srta. Ortiz has 4 nephews and 2 nieces too. They are very important to her and she loves to be an aunt. Having these people in her family has made her really good with children.
A really cool fact about her family is that Her grandma, great-grandmother and great-grandmother ́s mother (Tatarabuela) are still alive.
She is studying a Bachelors in English Teaching at her university. She can't wait to put into practice the things she has been learning in university in the classrooms here at Eagle Heights.
---
Spanish Education Fund  |  info@spanisheducationfund.org  |  Expanding our children's world